Who was Khadim Hussain Rizvi?
Khadim Hussain Rizvi was born on June 22, 1966, to Haji Lal Khan in the Attock district. Khadim Hussain Rizvi received his primary education up to a fourth class from a school in his village Nika Kalan. After that, he went to the Jhelum district for religious education. At that time he was barely eight years old.
When Khadim Hussain reached Jhelum alone, the movement for the finality of prophethood was at its height and due to this processions and rallies were going on. Hafiz Ghulam Mohammad, a teacher from Allama Sahib's village in Jhelum, was present and took him to Jamia Ghousia Ishaat-ul-Uloom Eid Gah.
This madrassa belonged to Qazi Ghulam Mahmood who was a special disciple of Pir Mehr Ali Shah. He was the Khatib and Imam himself, so the administrator of the madrassa was his son Qazi Habib-ur-Rehman.
The teacher for memorizing the Holy Quran in the madrassa was Qari Ghulam Yaseen, who was from the Gujrat district and was blind. It took him four years to memorize the Qur'an. When he was 12 years old, he moved to the religious district of Gujarat and studied there for two years.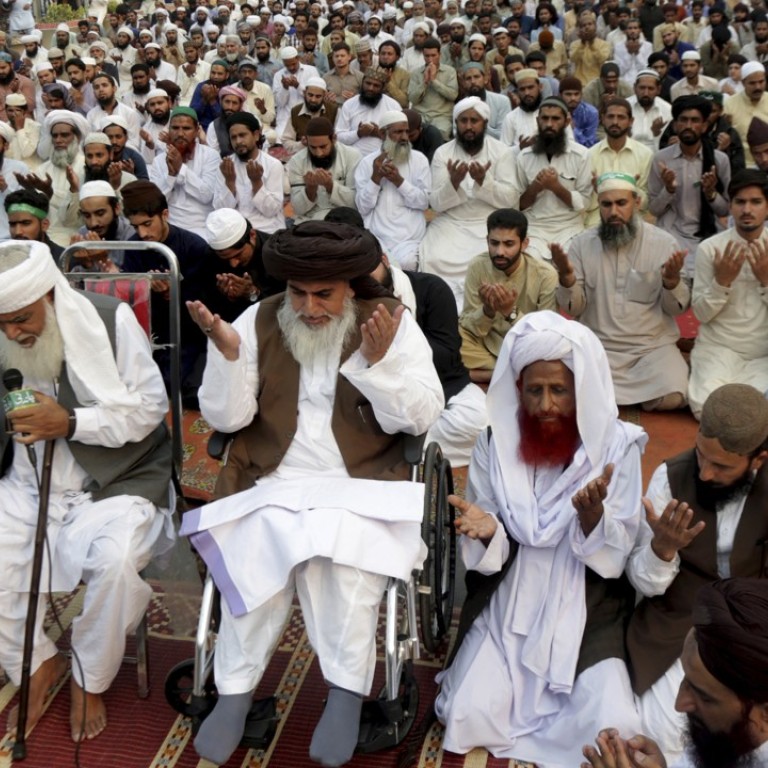 After studying recitation, he moved to Lahore in 1980 to pursue further studies. There he studied Dars Nizami at Jamia Nizamia, Lahore. He graduated in 1988 after studying at Lahore Madrasa for eight years.
In addition to memorizing the Qur'an, he studied Dars-e-Nizami and Ahadith. Hafiz Khadim Hussain first joined the Punjab Endowment Department in 1993 as the Khatib of Pir Maki Mosque near Data Darba Lahore.
He was disabled in an accident and confined to a wheelchair, some details of which have now come to light. According to unconfirmed reports, Maulana Khadim Hussain Rizvi's elder brother Amir Hussain Rizvi was constructing a mosque in the village when he left for his village in 2009.
On the way, the driver fell asleep and took a turn. Maulana Khadim Hussain Rizvi suffered severe head and brain injuries in the accident which left him paralyzed.
Spiritually, Khadim Hussain was a follower of Khawaja Muhammad Abdul Wahid, known as Haji Pir Sahib Kala Deo, Jhelum in the Naqshbandi dynasty. Khadim Hussain Rizvi had been teaching at Jamia Nizamia Rizvi for two decades.
In addition, he served as the central emir of Fadayan Khatam Nabuat Pakistan and Majlis Ulema Nizamiya.
Allama Khadim Hussain Rizvi was the founder of the famous religious scholar and religious political party Tehreek-e-Labeek Pakistan.
After the execution of Mumtaz Qadri's sentence, he openly criticized the government and later quit his job in the endowment department.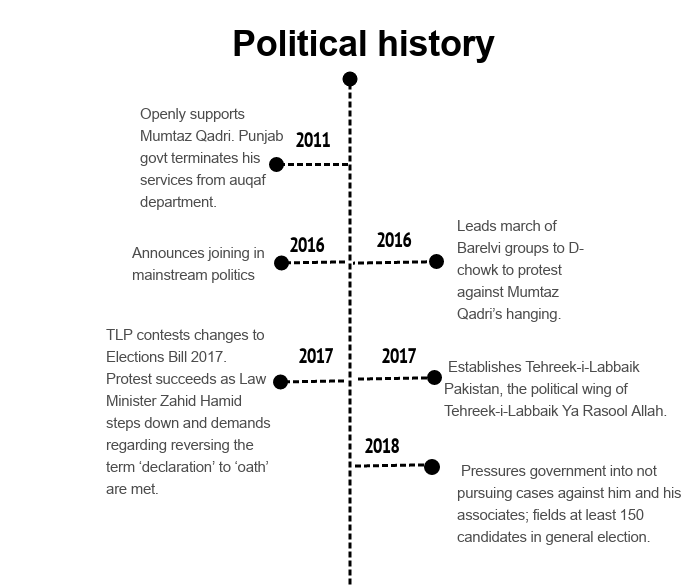 The TLP, led by Khadim Rizvi, had held talks with the government two days ago after protests at the Faizabad Interchange against government-sponsored blasphemous sketches in France. During the sit-in, he had told the workers that he had been unwell for five days but still came to participate in the sit-in.
The demise of Allama Khadim Hussain Rizvi is sad and a great tragedy for his devotees and family. May Allah grant them patience.