Kashmiris all over the world observe 'Black Day' today
Today is a dark day in the history of Kashmir. On October 27, Kashmiri people all over the world, including Pakistan, observe this day as a black day and hold protests.
At the time of the partition of India, a formula was adopted for the independent states to join Pakistan or India, the majority of the population had the liberty to decide which state they want to join. As the Muslim population in Jammu and Kashmir was 77%. Therefore, Kashmiris were to be given the right to join Pakistan.
At that time Nehru was the governor of Kashmir, who was also a Kashmiri who did not accept this formula, and an attempt was made to suppress the right of Muslim Kashmiris to join Pakistan.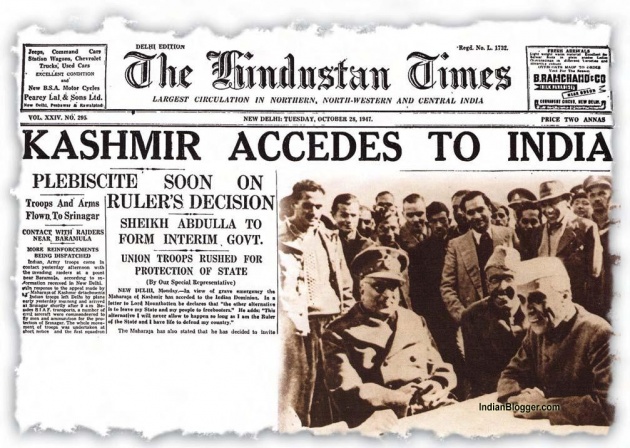 To this end, the Dogra Army and RSS militants attacked Jammu and launched a massacre there in which thousands were killed. Upon receiving the news, various Pashtun tribal volunteers came to the aid of the Muslim Kashmiri brothers.
As soon as this news was received, Dogra Raja Hari Singh could not dare to contest, he fled and reached to the Government of India for their help in this matter. The Indian government signed a so-called agreement with Hari Singh according to which it annexed India.
This agreement was totally immoral, apolitical, and fake because Hari Singh had fled. In Kashmir, neither his army was left nor his administration was there. Hearing of Hari Singh's escape, his soldiers either fled. Were killed or killed and a large area was occupied by Pashtun and Kashmiri volunteers
On October 27, 1947, the Indian Army reached Srinagar but did not dare to move towards the occupied territory. The area liberated from Hari Singh was renamed Azad Jammu and Kashmir which is still an independent state.
Pakistan gave rights to Azad Kashmir as an independent state. Azad Kashmir is the front line of Pakistan while India is aggressive and repressive. Despite seven decades of occupation, the Kashmiri people are still fighting against India.
Border violations by Indian troops have become a daily occurrence, with Indian troops flouting all international law and targeting civilians along the Azad Kashmir border, despite repeated backlash from the Pakistani military. Look at the extreme shame that India does not stop. This process is still going on.
India itself went to the United Nations on the issue of Kashmir, where a resolution was passed in favor of Kashmiris. According to this resolution, Kashmiris were given the right to decide on the annexation of Kashmir by themselves through a referendum, Nehru said.
A statement made on the spot which is on record that as soon as the situation calms down, Kashmiris will be given an opportunity to decide on accession through a referendum without delay and without any hindrance.
But that promise has not been fulfilled. India still maintains its aggressive and coercive domination over occupied Kashmir and considers Kashmiris doomed. Since August 5, 2019, 8 million Kashmiris have been besieged and all international laws have been violated. Occupied Kashmir has been turned into a human cage in violation of UN resolutions and human rights.
A number of Kashmiri political leaders have been locked up in jails or locked up in their homes. Massacres, rapes of women and mass graves continue unabated in occupied Kashmir.
The Kashmiri people have been fighting against the Indian occupation since October 22, 1947, and for their rights. Pakistan stands with the Kashmiris in their struggle for self-determination.
The Indian Army has so far martyred nearly one lakh people, 23,000 women have been widowed and more than one lakh children have been orphaned, more than 11,000 women have been raped, thousands of innocent youth have been taken into custody.
Money laundering from 44 Indian banks and the transfer of large sums of money to terrorists are evidences that the United States has also acknowledged. Based on all these evidences, the FATF should immediately blacklist India.
The United States and European countries, including Russia and China, should declare India a dangerous and terrorist state, and the Arab countries and the OIC should end all diplomatic, trade and economic relations with India. Otherwise, not only this region but the whole world will be badly affected by the fire that India is spreading in this region.