Finance minister presents Federal Budget 2021-2022
ISLAMABAD: The Pakistan Tehreek-e-Insaf (PTI) government on Friday presented the Federal Budget 2021 with total outlay of Rs 8,487 billion for the fiscal year 2021-22.
Finance Minister Shaukat Tarin presented the budget in the National Assembly, amid protest by the opposition parties.
Beginning his speech Shaukat Tarin said that the Pakistan Tehreek e Insaf (PTI) government inherited immense amount of debts which led the country at the risk of default.
"We inherited $20 billion current account deficit. No government faced such troubled times in the history," he said adding that the foreign reserves were artificially pumped by the previous government.
He said the government's biggest challenge was to save the country from default and put it back on the track of growth. It took the government some time to stabilize the economy because of the pandemic, he maintained.
The finance minister said the PTI government succeeded in recovering from the dreadful economic situation caused by the coronavirus.
"Employment has boosted which is reflected by the growth of online sales. 18 percent growth in tax recoveries also shows that income of people has climbed," he said.
He said that exports went up by 14 percent the following year in comparison with the last year.
He said that the current account was in surplus largely due to the remittances sent by overseas Pakistanis, which saw 25 percent record increase in it. Despite coronavirus, per head income mounted by 15 percent, he claimed.
Shaukat Tarin said the inflation had affected the low income people the most. Pakistan had become a food deficit country because this sector was not looked after in the last 15 years, he relayed.
He said target for the economic growth of the next year has been set at 4.8 percent. Rs260 billion reserved for Ehsaas program in the 2021-22 budget, he said. While, Rs1,330 billion allocated for defence.
"Each farmer will be given up to 0.2 million interest-free loan. We want to ensure up to 6-7 percent economic growth in the next 3-4 years. Every household will be given up to Rs0.4-0.5 million interest-free loans. Rs 4-6 millions will be given to low income households for the construction of houses," he said. Rs 0.3 million to be given to low income families for the construction of houses, he added.
The federal minister said that the government was giving Rs0.3 million subsidy in taxes. The target of recovery of taxes has been set at Rs5,829 bn, he added.
33 percent increase made in the public sector development as Rs2,135 billion allocated for the PSD. Low income people would be given up to Rs2 million loans. Rs113 billion allocated for social sector development fund.
Public Sector Development Programme is being increased from Rs630 billion to Rs900 billion, he apprised. We will invest in more profitable projects under the PSDP, he said.
The finance minister said poor will be given a complete package. Technical training would be provided to one member of each poor family.
"Rs118 billion set for the energy sector. Rs23 billion are being allocated for Diamer-Bhasha dam and Rs 6 bn being allocated for Mohmand dam. Rs 54 billion allocated for the development of Khyber Pakhtunkhwa. Rs14 bn fixed for Neelam-Jhelum power project," he said.
Shaukat Tarin said Rs16.5 billion were set for different projects in Karachi including extension of K-I and K-II projects. He said Rs98 billion were being allocated by the federal government for the Karachi Transformation Plan.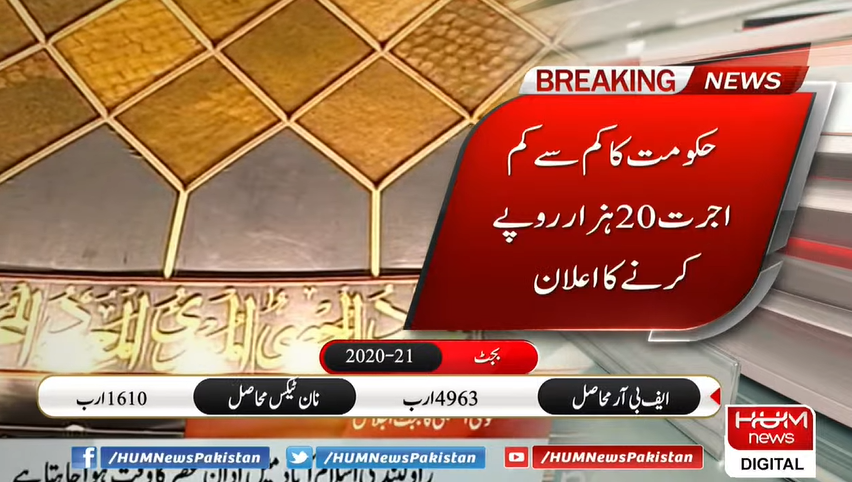 "Newly merged districts are given special importance by the government, hence Rs54 bn have been allocated for them," the finance minister said.
Salaries and pensions of public servants increased by 10 percent. No new tax to be imposed on the salaried class in budget 2021-22. Rs 1 billion allocated to increase the production of olive. 20 billion rupees allocated for PIA and 16 billion rupees for Pakistan Steel Mills.
Sales tax on 855cc cars to be brought down from 17% to 12.5 percent. For the development of Balochistan Rs 601 billion allocated. Rs559 billion to be given to Khyber Pakkhtunkhwa under the NFC.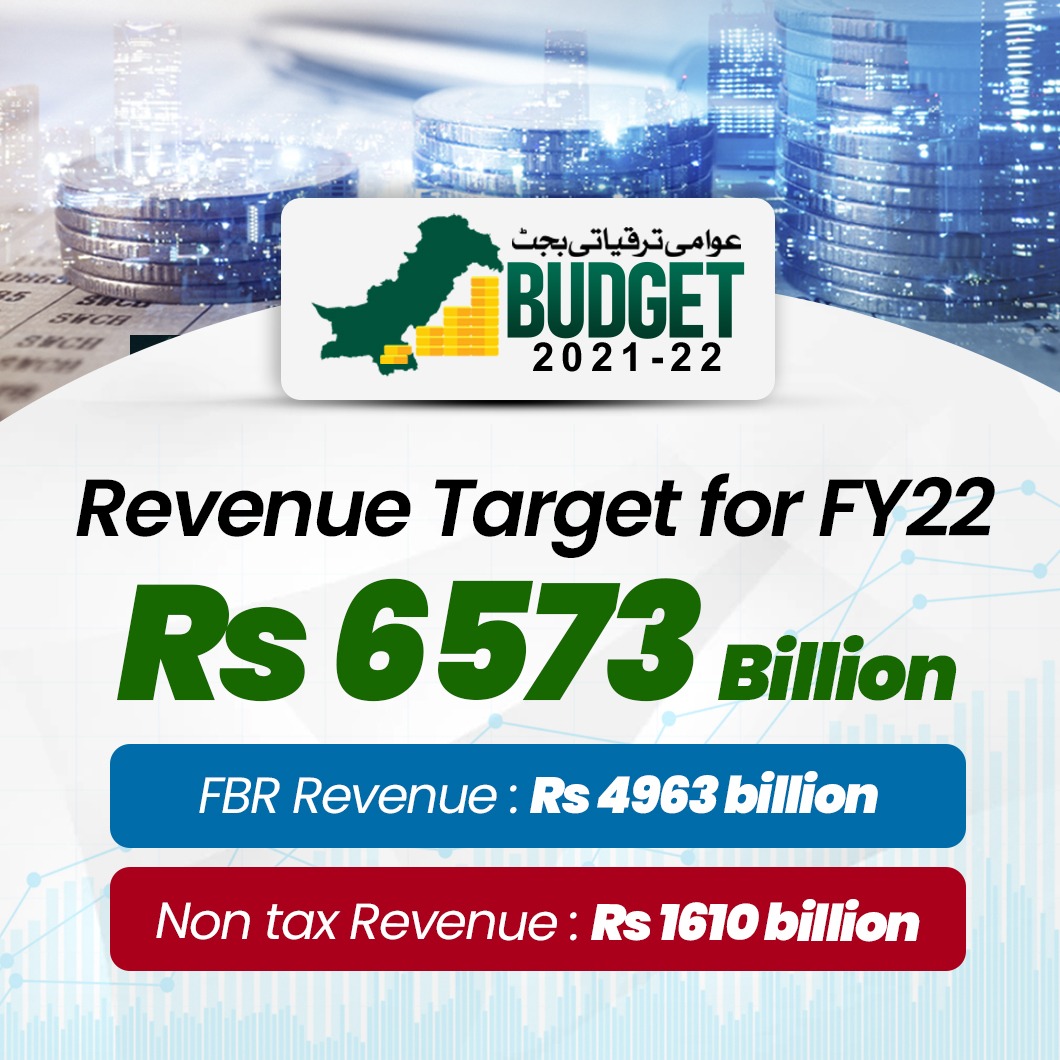 Rs100 billion allocated for Covid emergency fund. Target of vaccinating 100 million people by 2022 has been set. Rs100 million allocated for Anti Rape fund and it would be increased in the future.
Rs118 billion allocated in the budget to improve electricity infrastructure/transmission and reduction of theft and losses in the system. Rs16 billion set for Ten Billion Trees Tsunami project.
Locally developed electric cars to get tax exemption. Special technology zones are being developed in the country. Rs 100 billion allocated for underdeveloped areas.
Imposition of excise duty on internet usage, SMS and call exceeding 3 minutes proposed. Pakistan reduces sales tax on locally manufactured cars from 17% to 12.5%. If a child's annual school fees is Rs 0.2 million, then the same amount of tax will be paid on it. Rs19 billion allotted for protection of sea resources.
Mobile phone tax to be brought down from 12-10% and later to 8 percent. Travel and tourism withholding tax to be decreased from 8% to 3%. Human-friendly NGOs will be given unconditional exemption from taxes. Budget for Gilgit-Baltistan increased from Rs32 to Rs40 billion.
Under 'Meri Gari Scheme', the country ends federal excise duty, custom and regulatory duty taxes on 850cc vehicles. Books, magazines, agricultural equipment and cars less than 800 cc vehicles will be exempted from withholding taxes on import.
Advance custom tax exempted on already manufactured cars and new model cars. 17 big development projects at the cost of Rs13 billion completed under the CPEC.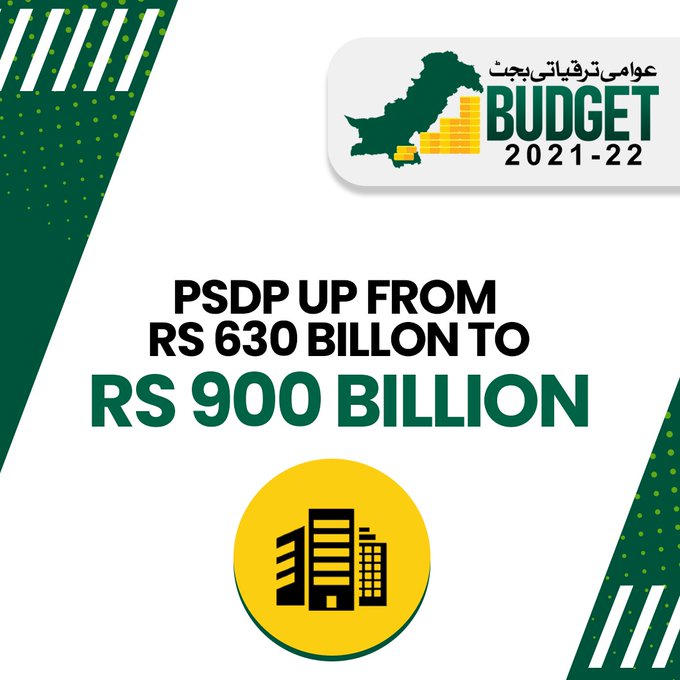 Taxes on locally manufactured bikes and vehicles are being reduced. Sales tax on electronic cars cut from 17% to 1%. Regulatory Duty to be increased on the imports of mobile phones.
Minimum wage of workers increased up to Rs20,000 a month. Paper used in the making of Quran Sharif to be exempted from all kinds of sales taxes. Rs5 billion allocated for new census.
Revenue target for fiscal year 2021-22 has been fixed at Rs6,573 billion including FBR revenue at Rs4,963 billion and non-tax revenue at Rs1,610 billion.
The CPEC planned activities during the next fiscal year include continuing work on four Special Economic Zones whilst work will commence on the remaining twenty-three of the twenty seven projects identified for poverty alleviation, health, education, vocational training, agriculture and water supply.
Shaukat Tarin pointed out that there is a considerable interest from various investors in national projects. He said the Public-Private Partnership Authority currently has fifty projects at various stages of processing within an aggregate value of about 2000 billion rupees, covering Railways, roads, logistics, science and technology, water, aviation and health. He said Sialkot Kharian and Sukkur-Hyderabad motorways with 233 billion rupees have been processed in record time. Another six projects of 710 billion rupees will be processed in next fiscal year. He said the government is proposing sixty one billion rupees in Viability Gap Fund as a grant to support projects that are economically justified but not financially viable.